Onze eigen Tranzer app: alle mobiliteit gebundeld
We hebben onze eigen app om onze API te laten zien en te testen. We bieden onze Tranzer app ook aan zakelijke partners aan die geen app hebben en voegen gepersonaliseerde functies toe.
In de Tranzer App kun je tickets kopen voor openbaar vervoer of gemakkelijk een taxi of fiets boeken. Alle opties voor jouw reis van A naar B, eerlijk en duidelijk op je telefoon. De Tranzer App kan gratis worden gedownload via iOS en Android.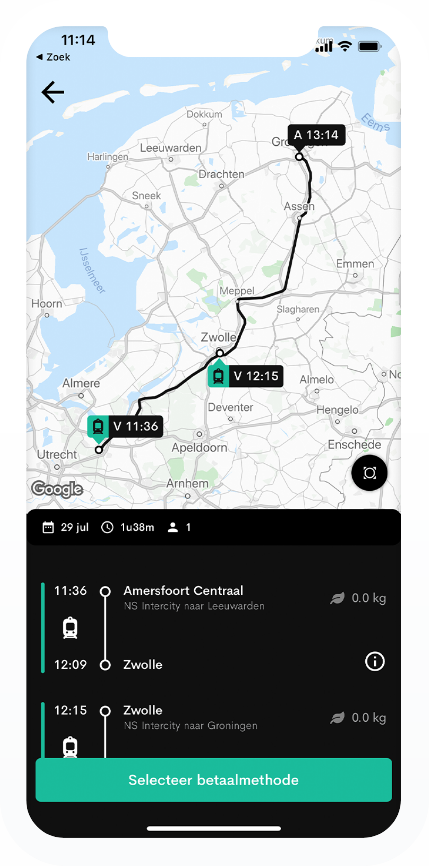 De Tranzer App is een gratis app die gebruikt kan worden om te plannen, te vergelijken, te betalen en te reizen. Je hebt geen kaart of contant geld nodig. Op deze manier maakt Tranzer mobiliteit gemakkelijk.
We willen graag dingen makkelijk maken en aanwezig zijn waar onze klanten zijn. Ons hoofdkantoor bevindt zich in Nederland. We hebben ook collega's in Duitsland, Italië, en Australië. Met de service van Tranzer kun je gebruik maken van allerlei reisopties in Nederland, internationale treindiensten door Europa, en vele openbaar vervoerders en micromobilitet in Europese steden.


We want to make things easy and be present where our customers are. Our headquarter is in the Netherlands. We also have colleagues in Germany, Italy and Australia. With our Tranzer service you can use all kinds of travel options in the Netherlands, International train services through Europe and many public transport and micro mobility in European cities.
Stationsplein 61, 3818 LE
Amersfoort, Nederland
Mindspace, Skalitzer Str. 104
10997 Berlijn, Duitsland
Via Francia, 21/C
37135 Verona VR, Italië
Suite 60, Level 11/88
Pitt St, Sydney NSW 2000
have a look inside the Tranzer app
frequently asked questions