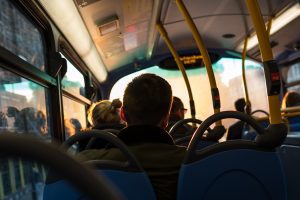 Mobility and transportation have increased immensely over the past few decades. Ask any person around you how much of the world they have seen, and you will get completely different answers compared to twenty years ago. The world has become smaller and increasingly connected, allowing us to travel more, yet also have a larger footprint as we go around. Our means of mobility have evolved parallel to our new norms of traveling. Yet, how come that with the increase of travel, public transport has gained slower adoption compared to car usage and other modes? 
The proportion of train and bus usage compared to total transportation has seen a decline of 1,2% over the past twenty years. Although this doesn't necessarily imply a decrease in the use of public transport overall, it does tell us that the use of other modes has gained larger traction throughout time. And this might pose a problem if we want to keep being mobile, without harming our planet. 
In order to tackle this, last December, the European Commission adopted four different proposals to modernise and improve the EU's transportation system. These proposals focus on aspects such as high-speed railway connections, increase in transshipment terminals, and sustainable urban mobility. So what are the proposed actions the European Commission will take, and what else is needed to change mobility behavior towards a more sustainable norm? This small series of articles will discuss some of our thoughts along four key pillars for development of the public transportation system: technological capabilities, economic policy, connectivity, and digital innovation. In this article, we will discuss technological development of the PT industry.
Although over the past years there has been an increase in the number of people travelling by train, only 7% of rail kilometers travelled between 2001 and 2018 involved cross-border trips. This means there is a lot to be done to stimulate international travel by train as opposed to modes such as airplanes or cars. 
High-speed trains
One of the main focus points of the European Commission is to increase high-speed and cross border trains to make long distance and international travel more efficient. Currently, within Europe there are various high-speed rail options to get from A to B, such as Thalys, TGV, SJ (Sweden), ICE, Alfa Pendular (Portugal), and others.  Although many large cities are connected this way, there are still more connections to be added to the network according to the European Commission's objectives. 
The so-called TEN-T is an example of an EU-wide network involving rail, waterways, and roads, connecting 424 major cities. The EU aims to modernize the complete network and ensure connections where they are currently lacking. Modernization of the network should double and eventually even triple the speed of rail traffic. For example, a trip between Copenhagen and Hamburg should take 2,5 hours instead of 4.5.  
Targets are set for 2040 where major rail lines along the TEN-T network should allow for at least a speed of 160km per hour. In the same year, the major lacking connections should be built, for example between Budapest and Bucharest.
Electrification of rail tracks
This goes hand in hand with the needed transition towards fully electric railway systems. Although trains provide us with a sustainable option to travel, this can still be improved. In order for trains to reach their potential of becoming fully environmentally friendly, the underlying infrastructure must allow for electric trains. The European commission has set various directives regarding the use of sustainable fuels (FuelEU proposals) and targets to increase the proportion of renewables, hydrogen and electricity of the EU energy mix – for all modes of transport.
However, the statistical office of the EU shows that on average within the EU, only 51,7% of the railway systems is electrified, demonstrating just a 4% average increase over ten years time. Some countries are leading the way such as Luxembourg, Italy, and Sweden. Others seem to be falling somewhat behind, for example Ireland, or Latvia with only around 6,4% of their rail tracks being electrified. On the other hand, there are several countries that have shown inspiring achievements over the past years. For example Greece, who demonstrated a 25% increase in the electrification of their national railway systems – but also countries like Slovenia and Portugal improved their infrastructure significantly.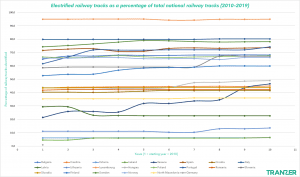 What's coming
In our next upcoming articles, we will be discussing how economic policy, increased connectivity, and digital innovation are further essential components to the achievement of an improved public transport system. We will comment on what needs to be done, but also on what has already be done by the industry to be recognized by national governments.