Improve connectivity between air, rail and local public transport for a smarter and more sustainable way of travel
One transaction, several means of transportation
Tranzer's vision is to make sustainable mobility accessible to everyone, in any app or website: One contract and one integration for all the public transportation in Europe, including long-distance trains, metros, buses, trams, etc. Tranzer takes care of all the technical and commercial complexity. We offer you the possibility to bundle mobility services provided by us to create new customer services.
Get inspired by the possibilities Tranzer offers to airlines
Create a virtual airport
Add train stations or even selected stations for public transit to your airport list and let users book trips from a wider range of origins to a wider range of destinations. Tranzer provides the station lists, the connections, and the tickets.
Add ground transportation to the booking process
Just like hotels, luggage and rental cars, add public transportation to the upselling step in the purchase process on your platform. Passengers can then buy their tickets in advance and avoid frustration at the airport. Tranzer can provide day tickets to any city in Europe.
Emphasis public transportation during check-in
Emphasis public transportation during check-in It's standard practice to send an automatic email to passengers, reminding them to check in online. Airline companies can easily add a reminder to also book the rest of their journey, door to door. This important step can help encourage your passengers to take the train, bus, tram and/or metro and travel in a more sustainable manner.
Add the full world of public transportation on your homepage
Generate more visits by offering the option to buy long distance trains and local public transport tickets on your platform: app or website. Offer users the full experience, from searching for connections, to comparing their options, and booking a ticket to travel like a local
Download our research and read the blog and learn how you can integrate ground transportation to your service.
* We will use your email address to keep you informed of developments on this topic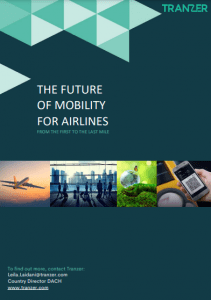 Why integrate our mobility solution?
We enable European door-to-door mobility
Tranzer connects and combines all public transport operators in Europe. Any platform or app can integrate the Tranzer technology to add plan, book and pay for public transport to their service. We are constantly adding operators and growing our offer.