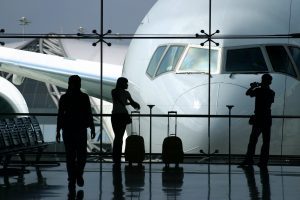 The airline industry is facing unprecedented times. Shocks from the global pandemic that haven't been as palpable as since World War II, the climate crisis that's urging us for radical change, and other developments such as digitization and globalization are reshaping passengers' behavior. Dynamic capabilities to respond to all these external factors are vital for airlines that wish to keep their ground, and a different look at mobility may be the way to get there.
Today's mobility system is fragmented. This counts for both ground transportation as airway services. Tons of platforms, different booking systems, and several ways to get tickets or check-in. It's not always easy to move from one place to another for passengers, but airlines could be part of changing it. Because today's customer value is all about aggregating products and services within and across industries to create an ecosystem that's easy to navigate for any user. Digital users are looking for one place, one payment, and one platform to get all their desired services at once.
This also counts for passengers of airways, who are increasingly regarding 'ease of use' as a main consideration in their flight purchase decisions. To stay relevant, airways will have to respond with an easy solution, not just for the distance covered by the flight, but for the full door-to-door journey that has to be traveled. This calls for last mile solutions such as bus, tram, train, shared mobility options offered on their platforms, so that customers can organize their travel needs without switching between apps or websites.
So far, some airlines have started integrating long distance trains as a first step towards full door-to-door mobility support. And although this already makes it easier for customers to mix modalities to their needs, it does not cover all. Airlines still forget about local public transport, which causes consumers having to switch from one app to another or queue up at ticket machines. Nothing like the convenience which customers are looking for nowadays –  A few clicks, one user experience, and no hassle. 
MaaS as a competitive advantage for airlines
Not only has convenience become a driving factor in competitiveness between airlines, but so has sustainability. And to address the elephant in the room: we know this is a tricky question for airways. But there are most definitely options to improve sustainability, as airways can play a central role in nudging their passengers towards green ground transportation options. 
Currently, most upselling mobility options on airline platforms include car rentals and taxis. But what if airlines tell their passengers that they can also travel to the same destination by train? That is where social responsibility starts. And what if priority was given to more sustainable alternatives such as bus, tram, metro, or train for the last mile instead of taxi or rental car?
Even shared mobility modes like steps, scooters, or bikes could be offered to get from the airport to the final destination. This is not a complex adjustment to make, but it does require airways to make a clear decision on what matters most. In our opinion, and that of many consumers, it's the planet. 
It becomes interesting when airways realize, and luckily they increasingly are, that  'sustainability' and 'ease of use' can go hand in hand very well. Easy, digital services for a plethora of green mobility modes give passengers the freedom to always choose travel modalities that suit them best, in any context they find themselves in. It allows them to make decisions based on price, comfort, ease, and sustainability, all on one platform, without complex planning processes. 
Tranzer for airlines
Tranzer has made this as easy as it gets: one API integration that enables airline platforms to offer a range of mobility services which are good for the planet and for the passenger. We take care of all the legal, commercial, and technical aspects, you just integrate our plug and play solution. It works for both mobile apps and websites, and you can modify our product to suit your needs completely. Flexible, comfortable and sustainable ground transportation added, so that passengers won't have to worry about their last mile travel needs ever again. 
All they need is their phone and they are ready to go. And as the transport tickets are made available on your own platform, passengers won't have to leave your app or website at any point. They can book, pay, and travel from anywhere to their final destination, just by using your app. Imagine the increased user engagement you will notice. 
Thank you for reading our article on the aviation industry and ground transportation. If you are interested in reading more about the role ground transportation will play in the future of the aviation industry, make sure to download our short research paper by clicking here. To learn more about Tranzer, follow us on LinkedIn or check out our website.