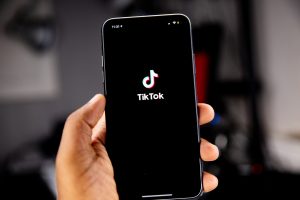 Viral content, new challenges, and let's not forget those dances that our youngsters love so much. TikTok has already left a huge mark on the behavior of its users, and with its content spreading across other platforms like Instagram or even LinkedIn, it's also affecting entirely different user groups – and different customer journeys.
Recently, Statista published the most popular travel destinations for this year's summer. But instead of preferences expressed by booked flights or hotels, it showed the views of videos posted on TikTok. Data that, just several years ago, perhaps wouldn't have had the same meaning as it has today.
Because what's really happening when a chart like this shows up, is that we get to see what information users of these big platforms are consuming most. They are being inspired by people living their lives in dreamy destinations. 
Leading platforms reacting to TikTok's presence
Smart booking platforms understand the need to respond to trends emerging from these powerful apps. An example was set this summer by accommodation platform Booking.com who launched their first ever TikTok campaign '#TikTokMadeMeBookIt'. The campaign was a response to the growing user engagement around traveling content on TikTok. Booking.com's social media director Laura Kaye noted that the simple hashtag of #travel has already over 90 billion views and led them wanting to be a part of this as a leading brand.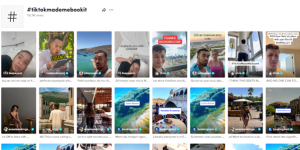 Other accommodation platforms react too. Last year, AirBnB commented on TikTok's analysis of trending 'design buzzwords' on their platform, confirming similar words were used by AirBnB hosts to promote their accommodations. Buzzwords such as 'vintage maximalism' and 'eclectic', were used by creators on both platforms to attract visitors to their posts. Whether that's a video on TikTok, or an apartment available for booking in Paris. 
The interconnection between trending content that's influencing users of different platforms shows how inspiration can come from basically anywhere today. And even though apps like TikTok may have never been part of your marketing plans, they do market certain ideas and products to billions of users. 
What about MaaS?
So what's the deal with MaaS? Can we make trains and buses more interesting to users? Yes, we most definitely can. Have you checked out Francis Bourgeois on Instagram? For those unfamiliar with Francis, he's our most famous trainspotter out there. But what makes his story even more interesting is that large brands like Adidas and Gucci have partnered with him to promote their products. A guy spotting trains, wearing a Gucci jacket, posting his videos to be watched by his 1.7 million followers – and counting.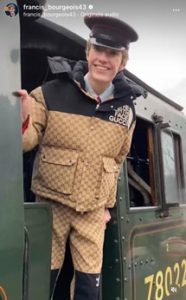 It's time to really start expanding our view on how to nudge travelers and influence their behavior. Because (even though very important) smooth planning and payment options are not going to get us all the way. Large travel platforms, mobility providers, and super apps integrating transport services, can follow suit when it comes to branding green ways of commuting. We need to make things interesting, and most importantly, we need to be present where our end-users are.
Tranzer does this by integrating into the apps that consumers are using most. We want to bring tickets for easy and sustainable travel into the hands of millions of users. But besides functionalities, we have a story to tell. A story of which sustainable transport options are available when traveling to TikTok's trending destinations, or how to get e-tickets in your mobile wallet for trains spotted by Francis.
Imagine scrolling through TikTok and directly being able to book your train to the city of that trending video? Without having to leave the app – just a few clicks and you're ready to go. That's what today's user experience is all about, and Tranzer is making this happen. We aggregate ticketing for public transport as well as other mobility services in Europe and offer these to large consumer apps to deliver app-users the smoothest customer journey possible.
If you are interested in reading more about connecting mobility to consumer apps or other strategies that are being deployed in the industry to make green travel easy and accessible, please check out our other articles on the Tranzer blog.
For more information about how Tranzer can help your platform integrate user-friendly mobility and payment options, have a look at our website or get in touch!