Ghent/Amersfoort, November 23, 2021 – IAM vendor TrustBuilder and mobility provider Tranzer have formed a strategic partnership. Companies using the TrustBuilder Service Catalog can now seamlessly connect to Tranzer to offer their customers a broad choice of mobility solutions. Adding Tranzer as a service provider is an important step for TrustBuilder in building out its marketplace strategy.
Tranzer is a ticketing aggregator, making it possible to plan, book and pay for mobility in any consumer app. Via one key, Tranzer offers public transport, shared cars, scooters, micro-mobility and parking. Tranzer aims at making mobility easy, enabling the best option for both the traveler and the planet. Tranzer's functionality can be used in the consumer apps of travel operators, banks, Mobility-as-a-Service providers, hospitality platforms, fuel and mobility cards, etc. Organizations that use APIs to integrate Tranzer into their app, can offer their customers more service and a better experience.
TrustBuilder goes beyond traditional Identity and Access Management (IAM) by making it as easy as possible for companies to integrate applications and Identity Providers (IdPs) into their applications architecture. By using TrustBuilder.io and its Service Catalog, organizations can deploy applications and IdPs in a secure, fast and reliable way. New applications are activated with an easy-to-use wizard. Acting as an 'ecosystem-as-a-service', the Service Catalog saves organizations both time and effort and allows them to bring new applications to the market before their competitors do.
"Using TrustBuilder.io to integrate third-party applications makes life easy on organizations that are building an ecosystem of services", says TrustBuilder CEO Frank Hamerlinck. "They don't need to set up point-to-point connectivity to each individual application, TrustBuilder takes care of that. We are thrilled that Tranzer now joins our marketplace, as mobility services are a key part of the ecosystems that our customers in HR Services and retail banking are developing."
"Our partnership with TrustBuilder will broaden Tranzer's reach in Belgium and other European countries", says Paul Rooijmans, co-founder of Tranzer. "We are glad that we can extend the ease-of-use mobility that we already offer to consumers and operators to the companies that will integrate our solution into their apps. With the integration by TrustBuilder, we can focus on adding more European operators to the Tranzer platform."
TrustBuilder customers can already add Tranzer to their apps. TrustBuilder is continually adding extra services to its Service Catalog. Thanks to a recent grant from the Flanders Innovation and Entrepreneurship Agency (VLAIO), TrustBuilder can speed up the further development of its marketplace of services.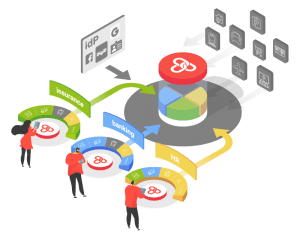 About TrustBuilder Corporation
At TrustBuilder, we're taking Identity and Access Management (IAM) to the next level. We integrate smart, smooth and secure ecosystems for enterprises combining frictionless customer experience with best-in-class security. Our unique IAM platform is fueled by ultimate flexibility, thanks to a powerful orchestration engine, a flexible development platform and an extensive number of built-in connectors. As a result, our customers can play by their own rules.
Website: https://www.trustbuilder.com
LinkedIn: https://www.linkedin.com/company/trustbuilder
Twitter: @trustbuilder