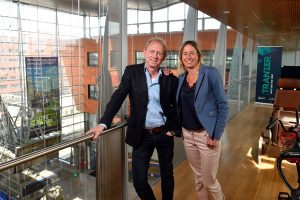 You have a great idea for the market, you have the long-term vision that comes with it, and you have the drive. All ingredients to start something new, something that could grow out to change the status quo. But when do you know you're ready to translate your vision into business? Tranzer founders Paul Rooijmans and Sanneke Mulderink share the experience of starting their company and the lessons learned.
Tranzer is a mobility platform that leverages technology to make mobility easy, green, and for anyone to use. Our business model that focuses on partnering with platforms and apps, is changing mobility from how we know it today.
A vision worth pursuing
The need for this change of mobility is self-evident as the world can't sustain without it, Rooijmans believes;
"The question is not whether we need to change our travel behaviour, but when. We need to realise that travel costs money and impacts the environment. We can not have it all, we need to change our behaviour. Therefore for me, there's no uncertainty of whether the market needs what we're creating at Tranzer.''
When you carry an idea that has the ability to change people's behaviour, you need to pay good attention to market conditions, Mulderink argues. Before they committed to Tranzer, they assessed many questions as: where is the market heading, who will be using our products, is our idea still relevant in five years time, and so on. But it's not just about the potential success of your idea, Sanneke says;
"It is not only the idea that you need to be willing to pursue, but also the business environment that comes with it. In Tranzer's case, we realized we'd have a large technical department and a lot of admin processes to manage. You need to ask yourself: what will my world look like with this idea, and does that excite me? Tranzer was a definite yes for the both of us."
After deciding to start their second business together, it was all about getting the right people on board and taking first steps. Paul emphasizes the importance of connecting the best people to your idea from the start: people who are open minded, show reflective thinking, and are eager to learn. Sanneke comments:
"We started Tranzer with people from our data company Lynxx. The people that joined us from the beginning were optimistic and opportunistic. In the early stages, these are the people you need: they go out, look for solutions, and get things done."
At the start, you don't know exactly what your product will end up looking like, she continues. Therefore it's key to have people who experiment and take risks. Both founders have had a clear mindset from the beginning: go live immediately, try things out from the get go, and make mistakes to do it right the next time. What does that result in? A lot of errors and failures, but simultaneously incredible team effort and growth.
"I remember in the beginning of Tranzer, we were selling enormous amounts of taxi rides to Paris. We thought we were really in business and our team was ecstatic, only to find out our 'customers' were drug couriers using fraudulent credit cards to travel. It costed us thousands of euros, but the level of engagement and learning it brought to the team was priceless.''
Moving forward as a young company
Once Tranzer began to create enough traction with their initial idea, the company started to bring in different kinds of people to the team. In this phase, they needed specialists to play a big role in deepening and sustaining the product. "This stage is all about ensuring that your products are of quality", Sanneke says.
Over time, Rooijmans sees that ensuring a high quality team also attracts new talent from the market. Tranzer is growing at a fast pace and new people join the company every month. This is an exciting part of the journey, both founders find.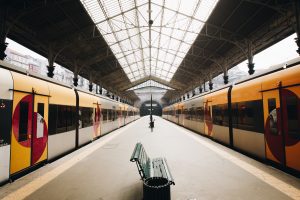 As Tranzer scales, the market is increasingly engaging with the company. However, to get to a level where you're known by different players in the industry, you have to communicate your core business well. At first, Sanneke explains, you work out your vision and discuss it with people around you to see what the initial response is. Then, when you keep talking about it, your idea comes to life and something really rises from the ground. You need to take each stage, talk to everyone, she continues. Over time, your stage evolves as you keep on building. 
"In the beginning, people thought we were crazy when we told them about Tranzer. Now, everyone in the industry knows us."
Doing business together
Throughout the journey, both founders have experienced the different ups and downs that come with building a business. In these moments, they've valued having a business partner to rely on. Working with a partner means you have someone who can push you when you are in some situations that challenge you, both Mulderink and Rooijmans comment.  
To make working together a success? You need to stay true to yourself, never stop communicating, and have a lot of fun, Rooijmans believes. Mulderink adds:
"We call around three times a day and often talk about a lot of random things, but also to check up on each other: are things still going well? Do we still like what we're doing?"
Today, Tranzer has close to forty employees working in five different countries. With a company that has grown to this size, the CEOs roles have changed. Paul explains that now it's all about creating a setting in which the team can excel. Sometimes that comes with taking a step back, but never without staying connected to the core product.
"It is important for us to stay close to the value we are creating, and ultimately the end-user. We still have the curiosity to find out how mobility works in different settings. When I am in Paris, I will download the different apps out there and even get frustrated about lacking functionalities, just to understand how people would use such an app."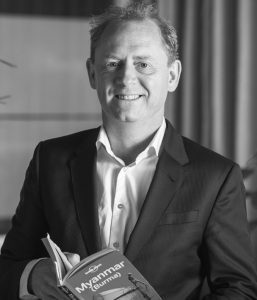 With a passionate team in different countries, Mulderink and Rooijmans are able to focus on the growth of the company instead of daily operations. It's about looking outside instead of inside, Sanneke explains: 
"If we are too close to the operations, we will end up doing what we have been doing so far. We have been in the team for too long to ensure we keep renewing our products and processes. Instead, we are the ones to put down our flag in new countries, connect new operators and open new doors."
With their energy and strong vision for the future, both founders are excited for what is to come. Next phases include the opening of more offices in new countries, a second investment round to scale operations, and growing the Tranzer team to ultimately reach the mission of transforming mobility. 
If you are interested in learning more about what Tranzer is doing, check out our other articles on the blog! You can also reach out Paul and Sanneke on their Linkedin, or through our Tranzer socials.