Bessere Vernetzung von Flugzeug, Bahn und öffentlichem Nahverkehr für eine intelligentere und nachhaltigere Mobilität
Eine Transaktion, viele Verkehrsmittel
Die Vision von Tranzer ist es, nachhaltige Mobilität für jeden zugänglich zu machen, in jeder App und auf jeder Website: Ein Vertrag und eine Integration für alle öffentlichen Verkehrsmittel in Europa, einschließlich Fernverkehrszüge, U-Bahnen, Busse, Straßenbahnen usw. Tranzer kümmert sich um die gesamte technische und kommerzielle Komplexität. Wir bieten Ihnen die Möglichkeit, die von uns angebotenen Mobilitätsdienste zu bündeln und so neue Dienstleistungen für Kunden zu schaffen.
Lassen Sie sich von den Möglichkeiten inspirieren, die Tranzer für Fluggesellschaften bietet
Erstellen Sie einen virtuellen Flughafen
Fügen Sie Ihrer Flughafenliste Bahnhöfe oder sogar ausgewählte Haltestellen des öffentlichen Nahverkehrs hinzu und ermöglichen Sie Ihren Nutzern, Trips von einer Vielzahl von Standorten zu einer Vielzahl von Zielen zu buchen. Tranzer liefert die Stationslisten, die Verbindungen und die Tickets.
Erweitern Sie den Buchungsprozess um öffentliche Verkehrsmittel
Fügen Sie, genau wie bei Hotels, Gepäck und Mietwagen, öffentliche Verkehrsmittel in den Buchungsprozess auf Ihrer Plattform ein. Die Passagiere können dann ihre Tickets im Voraus kaufen und Frustration am Flughafen vermeiden. Tranzer kann Tickets für jede Stadt in Europa bereitstellen.
Heben Sie öffentliche Verkehrsmittel beim Check-in hervor
Es ist gängige Praxis, den Fahrgästen eine automatische E-Mail zu schicken, die sie daran erinnert, online einzuchecken. Fluggesellschaften können leicht eine Erinnerung hinzufügen, um auch die weitere Reise zu buchen, direkt von Tür zu Tür. Dieser wichtige Schritt kann dazu beitragen, Ihre Fluggäste zu ermutigen, den Zug, den Bus, die Straßenbahn und/oder die U-Bahn zu nehmen und auf eine nachhaltigere Weise zu reisen.
Bringen Sie die ganze Welt des öffentlichen Nahverkehrs auf Ihre Homepage
Generieren Sie mehr Besucher, indem Sie auf Ihrer Plattform (App oder Website) die Möglichkeit bieten, Fahrkarten für Fernzüge und den öffentlichen Nahverkehr zu kaufen. Bieten Sie den Nutzern ein umfassendes Erlebnis, von der Suche nach Verbindungen über den Vergleich ihrer Optionen bis hin zur Buchung eines Tickets, um wie ein Einheimischer zu reisen.
Laden Sie unsere Studie herunter und erfahren Sie, wie Sie mehr Verkehrsmittel in Ihren Service integrieren können.
* Wir werden Ihre E-Mail-Adresse verwenden, um Sie über Entwicklungen zu diesem Thema zu informieren.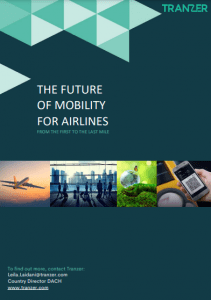 Warum sollten Sie unsere Mobilitätslösung integrieren?
11
Länder, in denen Reisen mit Tranzer möglich ist
200
Städte, in denen Services über Tranzer buchbar sind
40
verschiedene Mobilitätsanbieter, die in Tranzer integriert sind
8
verschiedene Modi, die mit Tranzer gebucht werden können
>15.000
Kilometer Streckennetz, die mit Tranzer befahren werden können
9
neue Mobilitätsanbieter, die 2020 in Tranzer integriert wurden
Nutzen Sie alle Mobilitätsmöglichkeiten bestmöglich!
Wir machen internationale Tür-zu-Tür-Mobilität möglich
Unsere Philosophie ist es, Städte/Regionen zu verknüpfen, indem wir zuerst alle öffentlichen Verkehrsmittel einbinden. Mit der Integration von Micromobility und Taxis sorgen wir dann dafür, dass User Tür zu Tür reisen können, inklusive der ersten und letzten Meile. Wir haben die folgenden Angebote:
We don't know everything, but we do know a lot about mobility.
If you want to find out more about how Tranzer can help your business, please contact us and we will be in touch.
send us a message
info@tranzer.com